Hello, chocolatey goodness: Come to mama.
These gorgeous "Dreams of Cream" were Archy's guilty pleasure in the eponymous chapter from Michael Chabon's upcoming (Sept. 11) novel
Telegraph Avenue
.
Now Neldham's Bakery has changed names, as has this light and lovely cake, now dubbed the Chantilly. Trust me, though, the dream-creamy deliciousness remains the same. Unlike Archy, I sampled merely a slice and, like him, enjoyed every subtle, cloudlike bite.
And
Taste of Denmark Bakery
(owned and operated by a few Neldham's employees) seemed quintessentially Oakland: while we spent about fifteen minutes there winnowing down our selections from their vast variety, we encountered a veritable melting pot of friendly customers and staff speaking four different languages. And this was mid-afternoon, not the drive-time rush.
If you're traveling down Telegraph, you should definitely stop in. Mostest favoritest surprise: The butterscotch chip mini-cookies were to die for. (So fab that taking a photo for y'all didn't even cross my mind until the little cellophane bag was empty.) I am decidedly
not
a cookie person, but I could have eaten the entire bagful. Luckily, my Dave
is
a cookie person and saw to it that I shared at least a few.
Intrigued about Chabon's upcoming
Telegraph Avenue
? Check out my read-along posts (just click the Blog Archive list of July posts below right and you'll find them all) or hop over to the host site,
As The Crowe Flies and Reads
.
Feeling looky-looky? Hop over to the Wordless Wednesday blog hop at Create with Joy.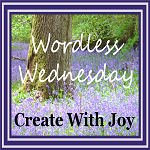 MFB,
L